Discover more from So Very
Hayley Krischer's newsletter about writing, aging, pop culture and sometimes I do Goop translations.
So Very: The Sweatshirt; I Have No Idea What My Company Goop Sells; Book News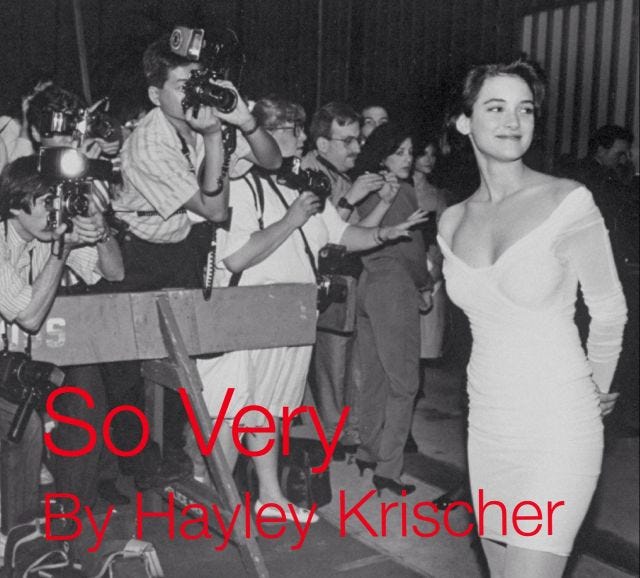 ---
Good morning all,

We have a lot of news to tackle so let's just get right to it.

In SOMETHING HAPPENED TO ALI GREENLEAF NEWS. I'm learning all about the book publishing industry on the fly here. So, my book doesn't come out until fall 2020. But about a year before that, the publisher's do what's called a "launch" for their sales department. That means that the sales department gets to read the book so they can then talk it up to the big book stores, Amazon, indie bookstores and, most importantly, librarians. Yesterday was my book launch and it went really well. Here's an amazing tweet from my editor about it.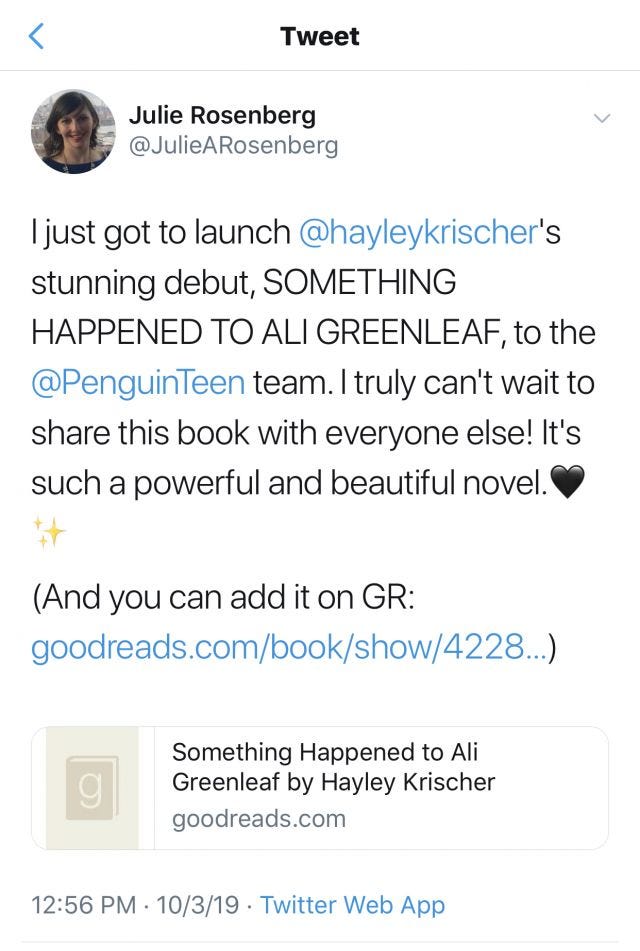 Don't forget to add it as a "want to read" on GoodReads! (Even though, yes, I know GoodReads is a toxic place where authors should never go and I'll probably have to block it from my phone and my laptop and if you're my friend in real life, don't let me read the comments.)

---
THE SWEATSHIRT
Not sure if any of you follow me on Instagram. But I posted a story yesterday about "The Sweatshirt." You remember The Sweatshirt, don't you? Of course you do. It's the one that Sarah Jessica Parker wore and spoke about and I stalked that sweatshirt until I found it. Then all of you bought the sweatshirt too and sent me pictures of yourselves in it. It was a glorious god damn thing.

Anyway, I noticed THE SWEATSHIRT on her sunglasses and shoes website, but it looks like she cut off the bottom. Right? Or, is it an entirely different sweatshirt???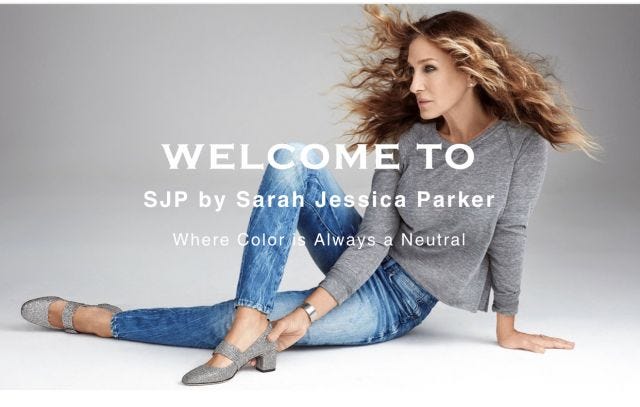 My line edits for my book are due in 10 days. But fuck it, guys, I'm going to investigate. If any of you know anyone connected to SJP please, I BEG you to ask about The Sweatshirt because it is of national emergency.

---
Goop Translation: I Think We Sell That

Goop (From The Cut):
"In an interview last night on Jimmy Kimmel Live!, Paltrow was asked about a handful of Goop products, most of which she had almost definitely never seen in her life... Likewise, she was unable to explain why the company sold a water bottle containing a massive amethyst, or bottles of camel milk."

Goop Translation:
Of course I know what I sell, you monsters. Don't you know that I won an Oscar award for ACTING? I'm the one who created our best-selling "fur oil," the oil for your pubes. If bearded men can massage their facial hair, then I knew one of you ninny's would buy the pubes oil too. Wait we sell an amethyst crystal water bottle?

I went to Pence.

Love in letters,
Hayley